You may wish to consider upgrading your stay at our bed and breakfast by indulging in one of our luxury Camden, Maine vacation packages or an in-room massage. Take a look at our In-Room Extras and be sure to check for special offers.
Sunrise to Sunset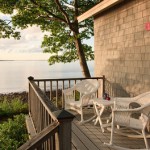 Two nights each at The Inn at Sunrise Point and the Lodge at Moosehead Lake
Experience the best Maine has to offer at our romantic Maine getaway. Watch the sun rise over Penobscot Bay, indulge in a sumptuous breakfast while watching the lobstermen at work a few yards from our beach; chase the sun across the waters sailing on the Windjammer Surprise, a schooner on the National Register of Historic Places that offers 2 hour day sails out of Camden Harbor. Then take a 2 hour scenic drive to the Lodge at Moosehead Lake and take in the breathtaking sunset over Moosehead Lake. Be adventurous and go on a Moose Safari, or relax with a massage therapy treatment.
Package rate: $1,600.00 based on a Lake View Room in the Lodge and an Ocean View Room in the Main House at the Inn, 2 night stay at each, for a total of 4 nights. Breakfast each morning, the 2 hour day sail, and a discount certificate for a Moose Safari or massage at The Lodge included. Upgrades available. Call either The Inn or The Lodge for this package. 207-236-7716 Inn; 207-695-4400 Lodge.
Join us in our top rated inn located only 4 miles from Camden, Maine.