This July marks the centennial anniversary of Andrew Wyeth's birth. Join us in celebrating one of the greatest artists of the 20th century and his deep ties to coastal Maine!
I remember the first time I realized I was meeting Andrew Wyeth. I was on a wharf in Tenants Harbor, Maine, after a long day of lobstering with my father. A weathered man in paint-splattered work clothes stopped to say hello and my dad called him "Andy." For a moment I considered him one of the workers from the wharf–a house painter, a wooden boat painter perhaps–and then I understood. I had met him several times before, but my teenage mind had never made the connections between Tenants Harbor's Southern Island, my grandparents' farm in Cushing, Maine, and that the man who was my grandfather's friend was indeed Andrew Wyeth.
This July marks a special occasion in mid-coast Maine as it is the centennial celebration of Andrew Wyeth's birth. And while he is indeed one of the most prominent artists of the 20th century, to us in this small Maine community he was a beloved friend and family member; someone who captured our likenesses and our landscapes in a breathtakingly honest and beautiful manner.
The Man and the Artist…
Andrew Wyeth was born on July 12, 1917, in Chadds Ford, Pennsylvania to Carolyn and N.C. Wyeth. N.C. was an illustrator and Andrew began his art education exclusively in his father's studio. His first public exhibition was in 1932. In 1937, at the age of 20, his first one-artist exhibition of water colors sold all displayed work in two days.
Wyeth began traveling to the Tenants Harbor area in Maine in the 1920s, and in 1938 completed a tempera portrait of Walt Anderson, a local man who became Wyeth's long-time model and confidante. In 1939 Wyeth met his future wife, Betsy James who also summered in Maine. It was Betsy who introduced Wyeth to Alvaro and Christina Olson of Cushing, Maine. All three had a strong influence on the young artist.
Betsy and Andrew were married in 1940 and welcomed their first son Nicholas in 1943, and their second, James ("Jamie') in 1946. Jamie demonstrated artistic ability early in his life and followed in his father's and grandfather's footsteps to become a third generation Wyeth artist.
Christina's World, one of the most recognized paintings in American art, was completed by Wyeth in 1948 when he was 31. This tempera portrait of Christina Olsen in the grass at her rural Cushing, Maine home was acquired by the Museum of Modern Art in New York City for $1800 and is displayed there today. Interestingly, all of Wyeth's paintings spanning a 70 year time period portray only two locations: Pennsylvania and Maine.
Andrew Wyeth died in his sleep at his home in Chadds Ford, Pennsylvania in January 2009. His grave is in a private cemetery in Cushing, Maine.
Local Wyeth Exhibits…
The Farnsworth Art Museum located in Rockland, Maine is dedicated to celebrating Maine's role in American art. With over 20,000 square feet of gallery space and a 15,000+ item collection you are sure to be dazzled. This season The Farnsworth features Andrew Wyeth at 100, a series of exhibitions displaying over 100 of the artist's works. Be sure to see:
Andrew Wyeth at 100: Maine Drawings–This exhibit was sourced primarily from Andrew and Betsy Wyeth's private collection and offers a rare glimpse of a vital aspect of the artist's work.
Andrew Wyeth: Dr. Syn–This display examines Wyeth's fastidious process and working method of completing multiple studies to determine a finished painting.
The Olson House: Photographers' Muse–The iconic Olson House featured in Christina's World has drawn the attention of legendary photographers. This exhibition features the work of Paul Caponigro, Linda Connor, Tillman Crane, Peter Ralston and more.
Andrew Wyeth: Maine Watercolors, 1938-2008–This exhibit encompasses many of the artist's most important watercolors spanning his entire lifetime and includes a study of his final work Goodbye my Love.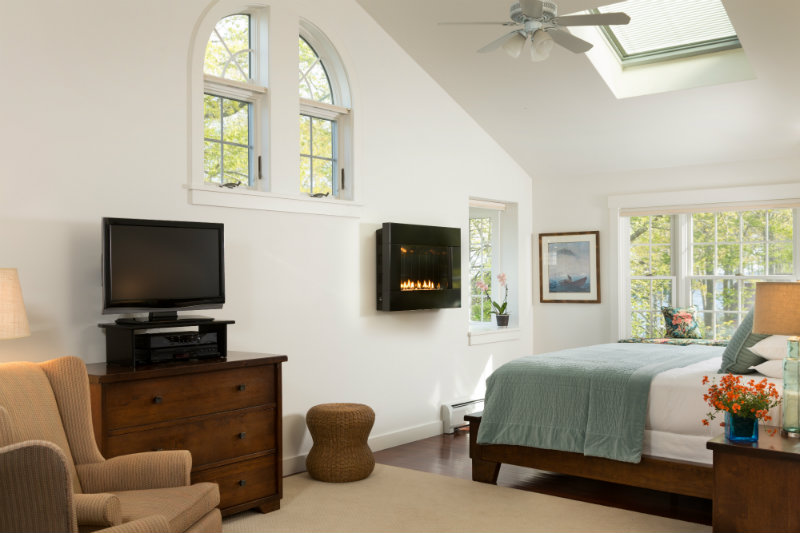 The Inn…
While each of our rooms at Inn at Sunrise Point is carefully appointed and named to honor a Maine artist, the Wyeth Loft is truly special to us. It's airy feel, expansive design, and abundant natural light are reminiscent of an artist's studio. This loft provides ocean and garden views, a sliding door onto your own private deck, a luxurious king size bed, and a lovely fireplace sitting area perfect for browsing three generations of Wyeth artistry. Perhaps sip a vodka and cranberry (Andy's favorite!) and join us as we celebrate the Wyeth legacy. We look forward to seeing you soon.