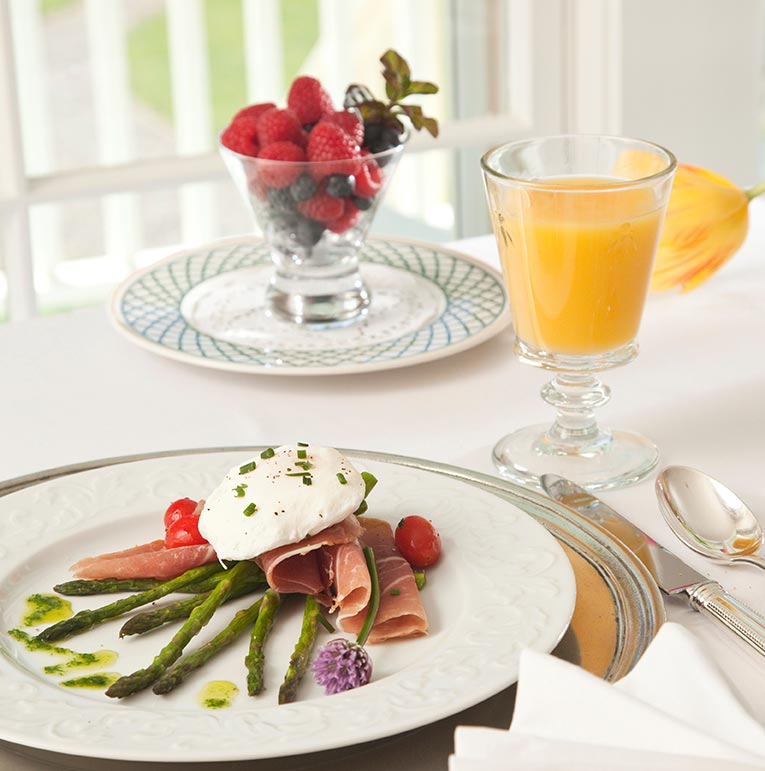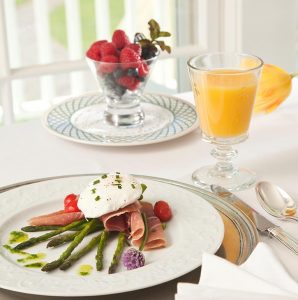 The Inn at Sunrise Point serves a sumptuous, three course breakfast to guests each morning in the ocean-facing conservatory and dining room. Full breakfast service is available between 8:00 a.m. and 10:00 a.m., and coffee and tea are available from 7:00 a.m. and throughout the day. Start your morning with Maine roasted Carrabassett coffee or a wide array of teas. Then choose a favorite from our freshly baked scones and muffins, and Chef Brad's popular multigrain bread. The Inn's own signature granola is always available, as are other cereals, and Greek yogurt.
Each breakfast includes a fruit course, with the Inn featuring locally sourced, farm fresh fruits such as blueberries and strawberries in season. The main course varies day to day, but guest favorites include poached eggs with prosciutto, roasted asparagus and chive oil; Belgian waffles with warm peach compote and maple glazed bacon; locally smoked salmon and goat cheese omelets; and whole wheat pancakes topped with wild Maine blueberries or raspberries. Gluten-free and special dietary requests are happily accommodated with advance notice.
In the afternoon, refreshments at our romantic Maine getaway always include freshly baked cookies, house made savory snack mix, assorted nuts, and fruits. And there is usually a bowl of chocolates lurking around the corner, just waiting for you to walk by. The Inn has a full liquor license and is happy to serve you the wine or cocktail of your choice. Complimentary soft drinks and bottled water are available in all guest refrigerators.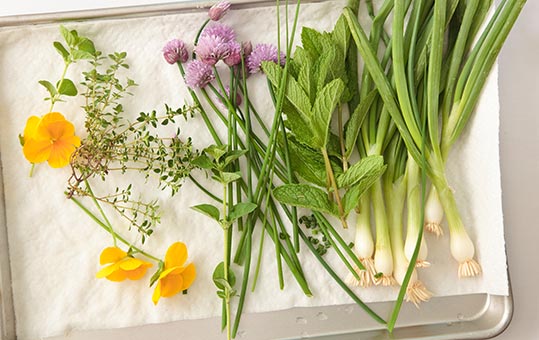 Savory Breakfast
Sample Menu
Apricot walnut bread
Raspberry corn muffins
Our granola and assorted cereals
Watermelon, cantaloupe & honeydew melon balls with fresh mint infusion
Poached eggs with roasted asparagus, prosciutto and chive oil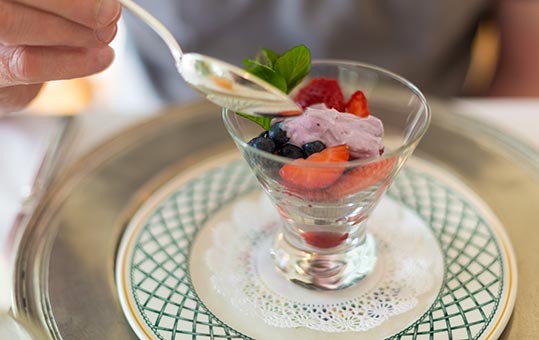 Sweet Breakfast
Sample Menu
Cinnamon rolls
Mango macadamia gingerbread
Maine blueberries with lemon yogurt cream
Whole wheat pancakes with caramelized pecans and local wild raspberries, maple glazed bacon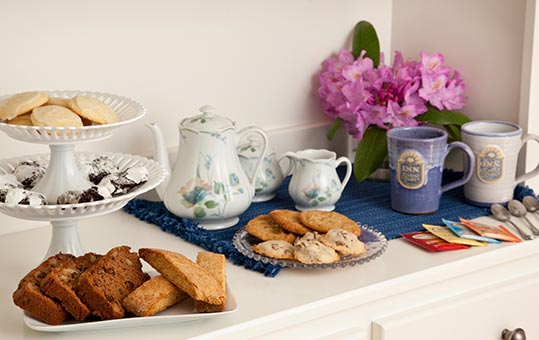 Afternoon Refreshments
Toasted butter pecan cookies
Lemon ricotta cookies
House made "Chex Mix"
Fresh fruit