We are very pleased to present new additions to the inn.  We spent the winter creating 3 new luxury accommodations—the Thaxter Loft, the Longfellow Suite, and the Garden House Suite.  All three are located in the Garden House at the Inn at Sunrise Point.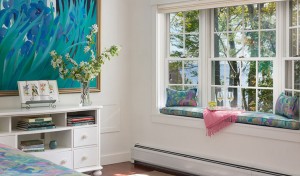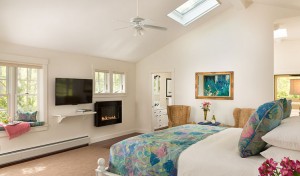 Daina's personal favorite is the Thaxter Loft located on the second floor of the Garden House. This spacious, vibrant and airy king bedroom is named after Celia Thaxter, an extraordinary woman in the 19th century New England, famous in her day as a poet, writer, painter, and gardener.  As it happens, Celia Thaxter also managed an inn on Appledore Island in Maine and returning guests drawn by her charm included Ralph Waldo Emerson, Nathaniel Hawthorne, Henry Wadsworth Longfellow, John Whittier, William Morris Hunt and Childe Hassam. The Thaxter Loft features both ocean and garden views. When you walk into this room you are going to think "Now I am on vacation!"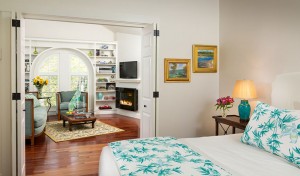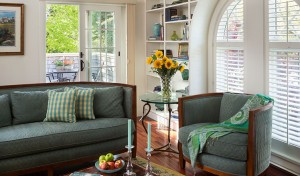 Next door to the Thaxter Loft is a lovely and soothing accommodation- the Longfellow Suite. The Longfellow Suite is one of our most versatile and unique spaces at the inn. The room contains a lovely king bed from which you can both hear and see the Atlantic Ocean outside your bedroom window. The Suite also has a separate sitting room with a double sized arched window as well as a large outdoor deck overlooking the inn's newest gardens.  The sitting room in the Longfellow Suite is special because it can be opened to the Longfellow Suite bedroom, and if you so choose,  to either or both of the two neighboring rooms: the Thaxter Loft and the Wyeth Loft. This makes it the perfect spot to stay if you are traveling with a larger group of friends or family members.
For more information on what these beautiful new rooms have to offer visit out website. You do not want to miss staying in one (or both) of these amazing new spaces!