Many people come to Maine to see its beautiful coastline and the clear blue –but freezing—waters of the Atlantic Ocean. However, you do not get the full ocean experience from simply standing on the shore. You truly need to get out on the water here in Midcoast Maine. The town of Camden is one of the best locations in Maine as it has an easily accessible and charming harbor. And the winds for sailing are surprisingly constant, much to sailors' delight.  Because of Camden's excellent harbor and the typically prevailing winds off the Camden Hills and Midcoast Maine, you will encounter world-class sailors in Camden harbor almost any time you visit.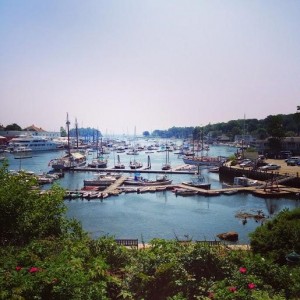 In Camden harbor—famous the world over–you can board one of the six large ships who are part of the historic Windjammer Fleet.  Your sailing trip can last up to seven days if you wish. But for those of us who just want to sample what it is like to sail on a tall-masted historic schooner,  there is another great option to get out on the water– the day sailing schooners!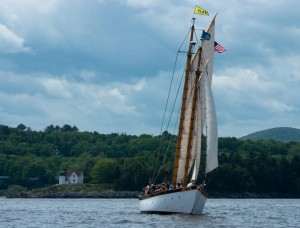 There are four schooners that run out of Camden harbor daily  and offer two hour sails every summer: The Schooner Olad , the Schooner Surprise, The Schooner Lazy Jack II, and the Schooner Appledore. Hop on one of these magnificent and historic ships and prepare to sail the waters of Penobscot Bay. You will see amazing wildlife, classic lighthouses, charming islands, long rocky coastline, gorgeous coastal estates, as well as other beautiful boats and yachts. The captains and crew aboard the boats are extremely knowledgeable and will talk about the history of the area in addition to answering any other questions you may have about sailing or about Midcoast Maine in general. A two-hour trip aboard a schooner is an incredibly relaxing and enjoyable experience. If you are looking for proof of the value of Schooner ride simply ask a local how many times they have been out on one and many will tell you they treat themselves to an afternoon sail several times a summer—just for the fun of it!
Book Your Getaway at the Inn at Sunrise Point for a luxurious stay.