As the temperature becomes cooler and the days begin to shorten, the autumn months are quickly approaching. Soon the leaves will begin to change and we will be surrounded by the colors of fall. With breathtaking views and just the right temperature, a Maine fall getaway is the perfect way to experience the best of the fall months.
Although the coast of Maine is known as a relaxing and quiet area for a warm summer getaway, few know that fall in Maine has even more to offer! This time of year has gorgeous views and moderate temperatures without the crowds! There is no better time to experience the beauty of mid-coast Maine than when the area is covered with colorful leaves.
To enjoy cozy evenings and stunning autumn views, stay at our romantic Camden bed and breakfast. Our oceanfront property is quiet and comfortable with a variety of rooms & cottages to choose from. With cozy fireplaces and spectacular views right from your window or private deck, you will enjoy some much-needed rest and rejuvenation.
Start off every morning of your stay by watching the sunrise over the shore and then head inside for a gourmet complimentary breakfast. Spend the day relaxing by the fireplace, walking on the beach, or head out on an adventure!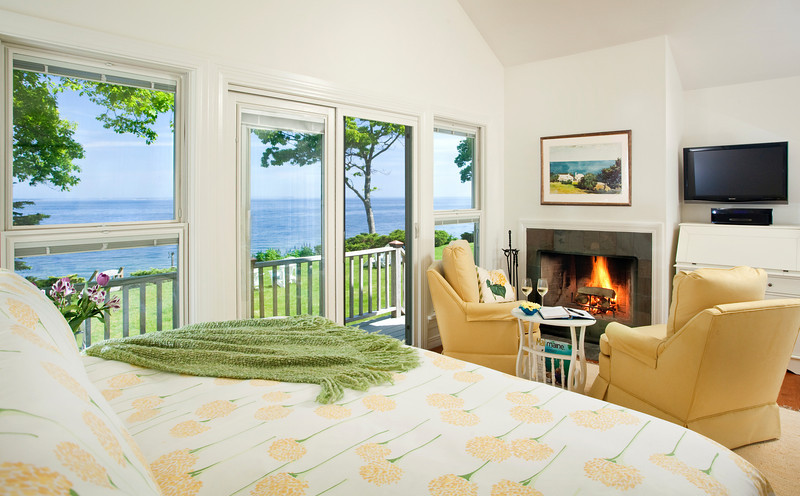 If you are looking for some fresh air and wan to do some exploring, let us pack you a picnic! From club sandwiches to gourmet lobster rolls, enjoy a delicious gourmet picnic along you way to find the best Maine fall colors. Simply add the picnic option to your reservation when you book online.
Get away to the coast and experience the best of Maine without the crowds! View the colorful autumn leaves by planning your Maine fall getaway at our oceanfront hideaway. Give us a call at (207) 236-7716 or book online today!