Are you planning your next getaway to Camden, Maine and trying to decide what to add to your itinerary? After a restful night in your cozy and romantic guest room and a scrumptious breakfast, venture out for a fun day trip in Maine and explore more wild and wonderful sides of the state! Keep scrolling to discover what's in store at two of our favorite local destinations, and find out the best ways to enjoy both the journey and the destination.
Acadia National Park
Located 90 minutes northeast of the Inn, this beautiful national park was founded in 1916 by grants from wealthy patrons and boasts nearly 50,000 acres of pristine coastal land. You'll see dramatic scenery ranging from mountains carved by glaciers to the serenity of Jordan Pond with 150 foot depths. Though the Park is lovely and interesting year-round, fall is a perfect time to visit.
Finish your delicious breakfast and then set out for Acadia National Park.
Upon arrival, stop at the Visitor's Center for an Acadia Park map and to get answers to any questions you may have.
Start your tour of the park by driving the scenic 27 mile Park Loop Road that weaves in and around a large portion of Mount Desert Island.
Head to Sand Beach to dip your toes in the water and then drive past some of the most dramatic and rugged scenes to be found on the Atlantic Coast.
Stop for lunch at Jordan Pond House or take a picnic from the Inn with you and find a beautiful vista to view while you eat.
Travel on for the steep climb up Cadillac Mountain, a 1,530 foot summit offering stunning 360 views that are especially beautiful in the fall.
Along Park Loop Road there are numerous opportunities to stop for short or long hikes, or to take a bike ride on one of the carriage roads created by John D. Rockefeller Jr. in the first half of the 20th century. We'd suggest you do a bit of homework ahead of time to maximize your opportunities to see and do what most interests you during your day trip to Acadia National Park.
The Village of Bar Harbor is easily accessible from the park. Main Street can be a bit touristy and crowded, but in 2020 the crowds are notably smaller than usual in this famous waterfront town.
Stroll Bar Harbor's Main Street and you can still be back at the Inn in time for a leisurely dinner.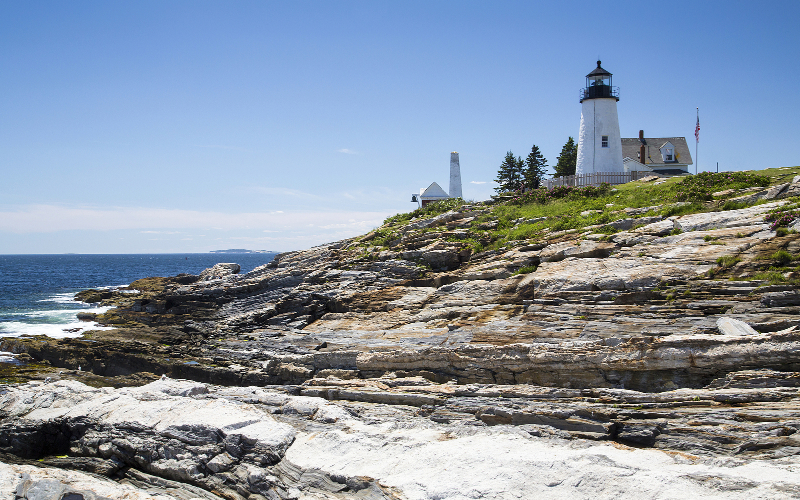 Pemaquid Point Lighthouse
Located about 80 minutes south of the Inn, Pemaquid Point Lighthouse is slightly off the beaten path and well worth the visit. This Maine coastal road trip from Route 1 down the Pemaquid Pennisula is simply lovely.
After a hot cup of coffee and a relaxing breakfast at the Inn, set out for this local treasure.
From the Inn, we recommend you take Route 1 South to Waldoboro, and then travel Southeast on Maine Route 32, past the Rachel Carson Salt Pond Preserve and scenic New Harbor, before arriving at the Pemaquid Lighthouse Park.
When you park your car and get out, you'll wonder if we wasted your time sending you here. The parking lot reveals nothing special. But when you reach the lighthouse and look down, you'll see a dramatically beautiful and fascinating shoreline — exposed bedrock descends from the lighthouse down to the Atlantic Ocean with a vivid and dramatic structure that is unique to Pemaquid. A lighthouse at this location was first commissioned in 1827 by John Quincy Adams.
You will find yourself at one of the most photographed sites in Maine. So be sure to take out your camera, and snag a few memorable shots!
Take your time walking around the outside of the lighthouse (and if it is open, the small but fascinating museum). Sit for a while enjoying the ocean views. If the weather cooperates, the colors of the waves and rock faces are amazing and you'll find yourself lingering. Whether you take it in for just a few minutes or explore for hours, you are sure to leave with lasting memories and beautiful photographs.
When you are ready to depart, take Highway 130 back up the Pemaquid Pennisula — the scenery is different as this route parallels the Damariscotta River — to the small village of Damariscotta. It is a charming town with an interesting history, delightful shops and galleries, and good restaurants.
Stop for a bite to eat at one of our favorite eateries like The Damariscotta River Grill on Main Street or the popular King Eider Pub. Every time we visit there is a new place to try. Damariscotta is Oyster Country. If oysters are your interest, you'll definitely want to go there!
Damariscotta sits at the junction of Route 1, so head north from there on Route 1 and you'll be back at the Inn at Sunrise Point in about 45 minutes.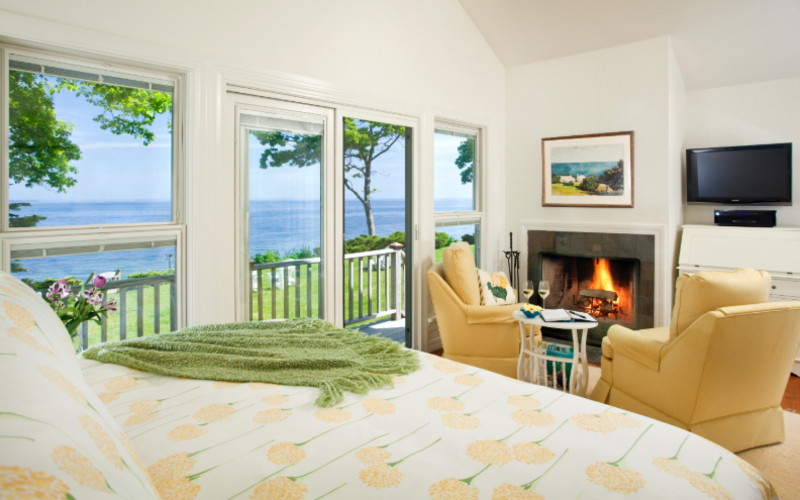 A Dreamy Place to Stay
After a day of adventure and fun at one of our favorite local landmarks, come home to our boutique hotel in Camden, Maine and find your sanctuary of serene tranquility by the sea. Curl up with a good book and a glass of wine by the fire, gaze at the uninterrupted ocean views, and just be. Choose the charming guest room you love the most, and look forward to your next escape to the great Pine Tree State. We look forward to welcoming you!
Book Now