Are you looking for a romantic getaway that's not too far from home? Plan your much-needed Maine staycation at our waterfront hideaway on the coast, where you can refresh and relax in spacious cottages on five waterfront acres. Besides the cool ocean breezes and magical sunrises, here are five reasons why you should stay at our Midcoast Maine cottages: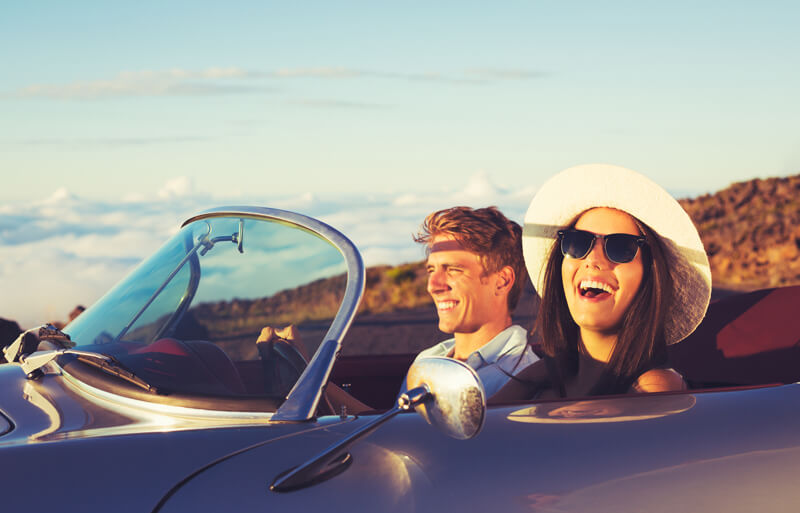 1. Less Travel Time Means More Relaxing Time
Big vacations can be fun, but all of the planning and logistics may put a damper on the reason for the break in the first place – TO RELAX! Taking a getaway closer to home will give you the retreat you need with less stress and more quality time with your partner!
Avoid the stress of cancelled flights, crowded airports, TSA searches, and traffic jams.
Instead of rushing to catch that 6am flight, you can have a leisurely morning, pack a bag, and be here just in time for cocktail hour.
Enjoy a peaceful drive with beautiful scenery, your own choice of music, and less aches and pains from sitting too long in the car, or squeezing into a cramped airplane seat.
Our secluded retreat is just 1.5 hours from Portland, ME and 3.5 hours from Boston, MA.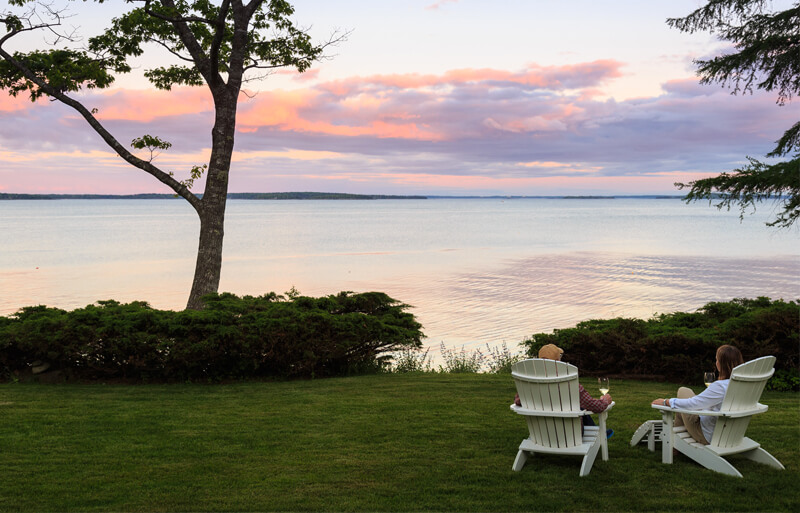 2. Avoid the Crowds on Five Oceanfront Acres
One of the major perks of a Maine staycation at our boutique inn is the opportunity to avoid the crowds. Once you turn onto our long, private driveway, and hear the gravel under your tires, is when the relaxing begins. You'll then have access to our meticulously manicured five acres, with so many places to just enjoy the day and each other.
Swing away the afternoon in a hammock big enough for two.
Relax side-by-side in secluded Adirondack chairs with million-dollar views.
Smell the sweetness in the air, fueled by beautiful garden blooms and salty ocean breezes.
Kick back at your own table and chairs on your private patio with a good book and chilled Champagne.
If you would like to get out and explore the area, we're happy to share our top picks for Maine's "off the beaten path" treasures.

3. Enjoy Private Entry to Posh Accommodations
We all try to make our homes a place of respite. But even the most comfortable couches and fluffiest pillows can't block out the endless to-do lists and weekend chores that nag at you. What you need is a vacation home on the coast, even if it's just for a few days!
Get away from the daily stresses of your regular life to a private cottage on the coast.
Avoid those awkward "hellos" in long hallways and elevators found at larger hotels.
Enjoy luxury amenities, along with private decks, cozy fireplaces, ocean views, Wi-Fi and A/C.
Watch the sun rise from the comfort of your bed, outfitted with the highest quality linens.
Relax in your deep, soaking or jetted tub in the privacy of your high-end bathroom.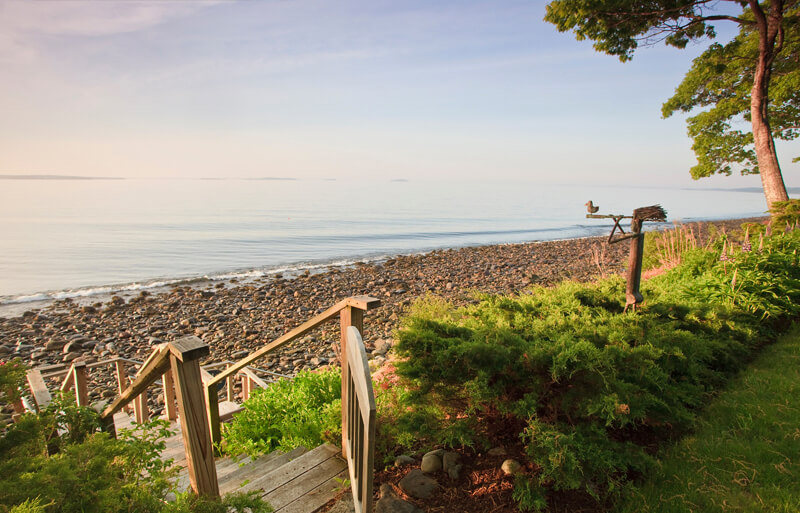 4. Get Private Access to an Uncrowded Beach
While the views of the ocean from our luxury cottages are enough to put your mind and body at ease, sometimes the sea beckons you to dip your toes! A private staircase from our inn leads directly down to the rocky shoreline, where you may feel like you're the only people in the world.
Pack your water shoes and bathing suit to fully enjoy the rocky coast, we'll provide the towels.
Get out on the water with a kayak or SUP, available from Ducktrap Kayaks right next door, they'll even deliver!
Grab a coffee and a comfortable rock to rest on while you watch the sun come up – it's magical.
Our romantic inn offers a wonderful setting to elope in Maine, but our natural coastline provides the most beautiful background for your wedding photos.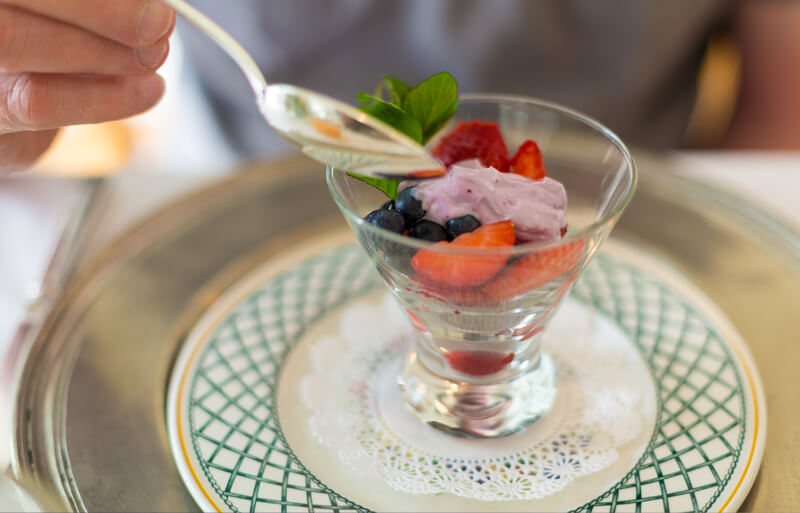 5. Savor the Bounty that Only Maine Provides
Maine's gastronomic gifts are seemingly endless. Whether it's the luscious lobster, the succulent seafood, the sweetest berries, or the freshest produce, there's always something to delight your taste buds. Our local farmers, independently-owned restaurants and most importantly, our in-house chef are all dedicated to bringing you the best food and drinks found in Midcoast Maine.
Wake up to an included chef-made gourmet breakfast each morning – worthy of five-stars!
Enjoy a glass of happiness from a local winery or brewery, available at our library bar. We also have a full liquor license if you like a stiffer drink.
Create a custom gift basket to surprise your loved one filled with local products from our favorite places, including Stonewall Kitchen, Cellardoor Winery, and more.
Indulge with a tasty treat, whether it's from one of the many gourmet ice cream shops nearby or from our own complimentary afternoon array of freshly-baked goodies.
Grab a bite from one of our locally-owned restaurants, or arrange for a picnic lunch or dinner, directly from our own kitchen, to enjoy on property or in your room.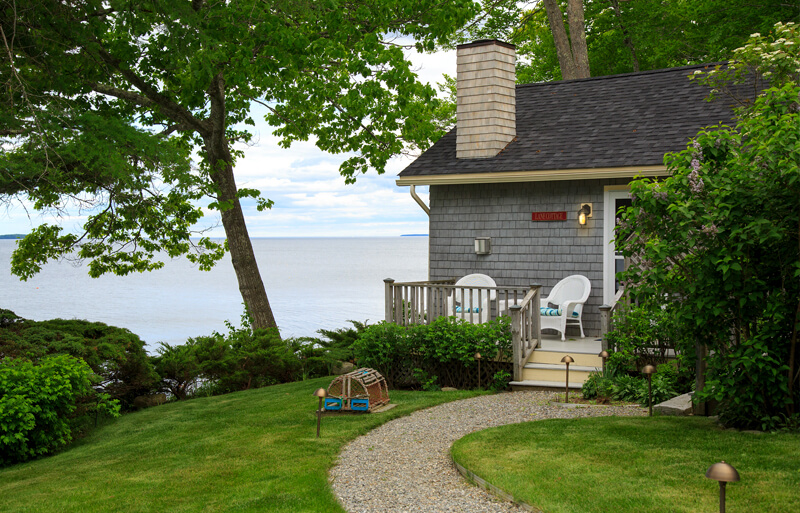 Book Your Much-Needed Staycation in Maine!
If all of this sounds like that getaway you've been craving, then reserve your favorite of our individually designed accommodations now. Then check out our photo gallery to start dreaming about your upcoming retreat on the coast. If you're concerned about the recent Covid-19 situation, you can book with confidence, knowing that we are making our policies more flexible and upping our game on our already stellar reputation for cleanliness. When you need a secluded getaway to the coast, look no further than The Inn at Sunrise Point, where each morning is blessed with the sun's gift of the beauty of a new day.
Book Now