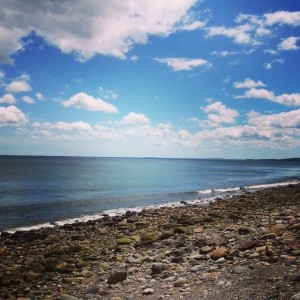 The 2014 season is well underway here at the Inn at Sunrise Point in Midcoast Maine!
Our bed and breakfast inn, hidden away on the coast of Maine just north of Camden, has had a very exciting start to the summer season. We've been lucky to have some beautiful and sunny weather here in Lincolnville Beach and Camden to start the summer. Now that July is here the temperature is rising but the cool ocean breeze is keeping things very comfortable at the inn. We have already welcomed many amazing guests who have come to stay with us from all over the globe and we are looking forward to greeting many more throughout the 2014 Season.
We are extremely proud to present several new additions to the Inn this summer. Over the long winter months we completed extensive renovations and as a result have 3 new luxury guest accommodations, each with amazing views and elegant but comfortable surroundings. They are spacious, airy and lovely spaces and we look forward to showing them off. We redecorated the Richard Russo Cottage and made significant improvements to the Wyeth Loft. We are also proud to present our new Garden Spa, where guests can receive a relaxing massage in a calming and beautiful space. Finally, we added several new flower gardens and flowering trees around the buildings and are excitedly waiting to see what blooms next.
We are just posting new photos and descriptions to our website www.sunrisepoint.com and Facebook page this month. Stay tuned for more information and updates as well as pictures from the Inn at Sunrise Point and –believe it or not — blog posts to come over the course of the summer.